One of the most profound impacts of the current global pandemic is the widespread shift to working from home. As more and more organizations transition to being remote, employees worldwide are quickly learning how to navigate all aspects of working digitally – which means adapting to remote working tools like video conferencing.
WFH Trends During COVID-19
In April, a Gartner survey revealed that half of reporting companies have moved at least 80% of their workforce to remote settings. These newly remote workers are figuring out new ways of connecting and collaborating while managing invasive pets, noisy children, spotty broadband, and the constant hum of COVID-19 induced anxiety. Despite these challenges, the survey also found that 41% of these workers plan to remain remote at least part of the time even after shelter-in-place orders are gone.
For long-time independent contractors, freelancers, and other self-employed individuals, this new reality is old hat. Payoneer's 2020 Freelancer Income Report found that 83% of surveyed freelancers choose to work from home rather than in co-working or other types of offices.
With many businesses, from small and all the way up to massive enterprises, considering shifting to a work-from-home model permanently, video conferencing is quickly becoming every company's most important tech tool.
Of course, we've all seen what happens when video conferencing goes sideways, and while it's great for a laugh when others mess up, video conferencing is here to stay so doing it right is an important skill to learn ASAP! Whether you're using Zoom, Skype or Google Hangouts, there are many ways to maximize your video time.
5 Tips for Better Video Conferencing
Working from home is a new reality that will likely extend well past the end of the current crisis. The key to maintaining productivity and collaboration while working remotely depends in large part on effective use of technology to communicate and execute tasks, especially video conferencing. Here are some best practices and techniques to make your video conferencing effective and productive.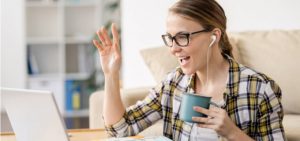 1. Check Your Bandwidth
Video conferencing can be a really heavy load on your home internet connection, and this will invariably affect the quality of your calls, regardless of the platform. Choppy audio and pixelated video are a sure way to put a damper on any video call, so check your internet speed before the meeting and shut down any bandwidth draining activities on your Wi-Fi. If you have roommates, kids, or a partner at home who is also using video conferencing, try to schedule around each other to avoid hogging resources.
If your computer has tons of open tabs and programs running, this will also affect video conferencing quality. Shut down any unnecessary apps or programs to make sure all the CPU power is committed to your call. An added benefit of taking some time to shut down unnecessary tabs is to make sure that if you share your screen during the meeting, nothing personal pops up. You can also enable do not disturb so pop-up messages don't disrupt your call.
2. Keep it Professional
It can be tempting to let some things slide when you are working from home. While staying in pajamas all day and taking an extended break from shaving have reached epic pandemic popularity, consider pulling yourself together for a video conference call. Clear up any clutter that might be in the background and distract from what you are saying. No one needs to see piles of laundry during a meeting. If tidying up isn't in the cards, use a virtual background (but keep it simple and appropriate).
Most importantly: keep your pants on! You never know when you'll forget and stand up during a video conference, so just get fully dressed to avoid embarrassment.
3. Get Started a Little Early
If you wait until the last minute to log in to a video conference, you won't give yourself the extra time needed if something isn't right. Check your microphone and camera, verify that your connection is good, and take a second to position yourself where there is good visibility. If you are presenting something in the meeting, consider doing a run through beforehand to make sure everything is in working order. Many video conferencing platforms include test features, so use them before starting a call and don't wait for the meeting to sort out a glitch.
4. Stay Charged
Video conferencing can be a serious drain on your phone or laptop battery. Having your device die mid-meeting will be stressful for you and annoying for others left waiting while you scramble to plug in. If you can stay in one spot during the video conference, consider staying plugged in for the duration so that you don't have to worry about battery. If you are on the go, take a portable charger with you – and make sure it's charged as well.
5. Be Engaged
With no one looking over your shoulder, it can be hard to stay focused during a video conference while working from home. There are likely dozens of things you could be doing, from switching a load of laundry to watching Netflix, but staying engaged while on video is vital to maintaining effective communication and collaboration. Use body language to show you are present and keep your eyes on the screen.
Summary
With these tips for effective online video meetings, your work from home transition doesn't have to impact effective communication with your colleagues. By addressing technical problems before they arise, staying focused and professional, online meetings can become an integral part of your work life.
Remember, don't forget your pants!
Source: Payoneer Blog